Rapid Mac Setup for Frontend Development
My Macbook broke down after using it for a year — the logic board got fried. I got this Mac repaired and it broke down a month later. The logic board got fried again 🤦‍♂️.
Long story short, Apple agreed to repair the Mac again for free. They also agreed to send me a new Macbook as a replacement since my current one gave me so many problems.
In the meantime, I've gotten pretty good at setting up my Mac and I'd like to share how I do this with you.
The Mac Setup
The first thing I do is increase the tracking speed for both my mouse and trackpad since it means I become (slightly) more productive with a faster mouse cursor.

Trackpad tracking speed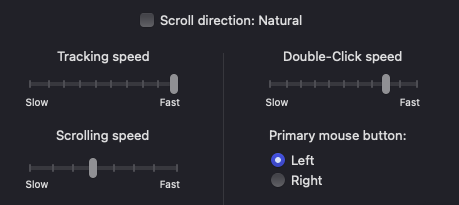 Mouse tracking speed
Then I change the keyboard layout since I use Dvorak Qwerty as my main layout.

But I don't change the keyboard delay until repeat because I have a macos script that shortens the delay way beyond what the Mac setting can do.
This macos script (inspired by Mathias Bynen's script) also configures many other OS-level settings that are gonna be useful for developers.
My External Keyboard
I'm very thankful that I bought a Moonlander and configured it a while back. This lets me plug in my keyboard into my computer and almost all my shortcuts come back automatically.
It also lets me switch between my Mac and my Windows machine (which is my backup computer) without having to get used to changes in the keyboard layout.
Dotfiles
I wrote about dotfiles back in 2019 which helps me configure how several programs behave. I share my Dotfiles publicly on Github so you're free to use them if you wish to.
While setting up my new computer, I realized my Dotfiles weren't optimized for computer setup — they contained many binaries that were useful for development, but they weren't essential right away. So I optimized the setup by prioritizing essential apps like Alfred, Dropbox, Google Drive, Tower, etc.
It's a hassle to create new SSH credentials for every new Macbook, so I decided to save a copy of my SSH configuration into a private Github repository.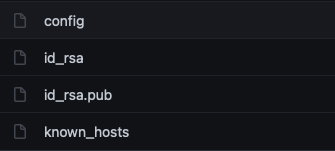 I then copy these secrets and fix their permissions with a handy script. (I'm not sure whether the 755 permission for .ssh is excessive though).
# Create .ssh folder




mkdir

 -p ~/.ssh



# Copies SSH config into .ssh folder




sudo

 cp -r ssh-mac/* ~/.ssh



# Fix permissions




sudo

 chmod 

755

 ~/.ssh


sudo

 chmod 

400

 ~/.ssh/id_rsa

This makes it easy for me to SSH anywhere — both to Github and my Digital Ocean Server.
Visual Studio Code
Setting up Visual Studio Code is easy because I've already saved my preferences with the Settings Sync extension. It saves everything you need — including keyboard shortcuts, visual studio code preferences, and even the snippets you created for each language.
If you use Visual Studio Code and haven't created a Settings Sync profile yet, I highly encourage you to do so. You'll never know when you need to setup your code editor… (but I hope you don't have to use it).
Apps
Aside from the apps I can download with Homebrew, I also have paid apps that can't be downloaded with Homebrew. These apps are managed under Setapp and the Mac App store.
Setapp
In Setapp, I favourited all the apps I want to download and install and I can install them all with a single click. Makes things easy!
Not to mention, Setapp has really good apps that can cost a bunch. Notable mentions include:
Bartender - for hiding stuff
Busycal - my calendar
Cleanshot - better screenshot tool
Clean My Mac - for cleaning up the mac
Dash - reading documentations
Mind Node - for creating mindmaps.
Petrify - generating code images
Sizzy - browser for responsive web development
Typeface - organizing my fonts
I recommend checking out Setapp if you're on a Mac. It has many handy Mac apps.
Mac App Store
In the app store, I basically sign in, view my purchase history and download the things I need.
The only notable mention here is Moom, which I use to tile my windows in various positions. Setapp has an app called Mosaic which does the same thing. But I prefer sticking to Moom because I haven't found a need to change the workflow.
List of apps 🤔
I'm curious if anyone is interested about a list of apps I use on a daily basis. It'll be cool to compile and share this list. But I only want to do it if there's sufficient interest 😂
How I store my files and documents
With the amount of computer-switching going on, I found myself relying on Dropbox and Google Drive for most of my files — I store almost everything there so I don't lose any documents.
But I have a bad habit of storing files on my Desktop (which is how I lost the files for my redesign 😢). It's good to change up this habit so I actually don't lose anything even if my logic board dies again.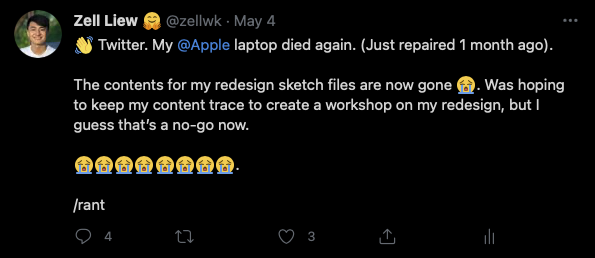 I don't keep code projects inside Dropbox/Google Drive for obvious reasons — there's a ton of dependencies with npm for each project. Storing node_modules in Dropbox or Google Drive is simply a waste of space… I version control them with Git instead 🤓. But this means I'll need to build a habit of committing and pushing updates into the Git repository.
Wrapping up
I hope this gives you a good idea of my workflows on my computer. Everything here is made to minimize downtime should I have to switch to another laptop.
It's tedious to set this up. But once you have this ready, getting up to speed can take 1-2 hours instead of 1-2 days. It's a huge time saver going forward.
What's your workflow regarding your computer? Do you do something similar to how I do it? I'd love to hear your thoughts so please feel free to let me know!
---
Thanks for reading. This article was originally posted on my blog. Sign up for my newsletter if you want more articles to help you become a better frontend developer.